Combination Locks
Model 2937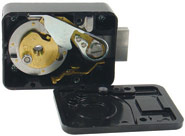 Related Links:
National Stock Number: 5340-01-566-7405
FEATURES
Three all-metal wheel construction.
Familiar left-right-left dialing sequence, and one-handed operation for convenience.
Tweny man-hours of resistance to expert manipulation.
Built in thermal protection provided by an integral thermal relock component.
Key changeable wheel design for simple combination changing.
Stainless steel lock bolt is strong enough to resist more than 600lbs. of force.
Incorporates S&G's patented, time-tested torque adjuster to allow precise setting and maintenance of wheel pack torque.
The lock case uses S&G's "Magic Module" footprint for ease of retrofit on existing containers.
Options
Variety of dials and rings in Spy-Proof® and front reading designs