Electronic Safe Locks
S&G Audit Lock Model 6126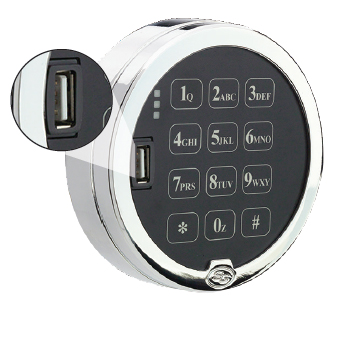 Related Links:
FEATURES
1000 Time and Date Stamped Events.
USB Download to flash drive.
SAVE as PDF, Excel, Word, or Text file.
FIELD PROGRAMMABILITY via keypad for single control, dual control and manager/employee modes (up to 30 users).
NON-SOLENOID CONSTRUCTION eliminates the threat of vibration and bouncing attacks.
MANAGEMENT RESET CODE in the event the master code is lost.
3 KEYPAD LEDs (green, yellow, red) for lock status indication.
LOW BATTERY INDICATOR signals when batteries (easily changeable 9-volt batteries) need replaced.
TIME DELAY of up to 99 minutes.
PENALTY LOCKOUT FEATURE to deter random code entry attempts.
AUDIBLE AND VISUAL SIGNAL from lock every time the bolt extends to the locked position.
Options
Audit trail software to view and manage audit information on your PC
PIVOTBOLT™ and DIRECT DRIVE™ options available.