Electronic Safe Locks
S&G Audit Lock Model 6126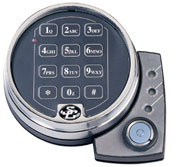 Related Links:
FEATURES
One million codes to choose from.
Field programmable (via keypad) for single control, dual control, and employee/manager modes; changeable at any time.
One programmer code, three manager codes, six supervisior codes, and twenty user codes.
Programmable time delay of one to ninety-nine minutes can easily be activated from the keypad.
Time delay opening window can be set from two to ten minutes.
Penalty lockout feature shuts the lock down for ten minutes if five or more incorrect codes are entered in a row to deter random code entry attempts.
Operates on two easily changed, 9-volt batteries located in the keypad
All programming is accomplished via the keypad; no special programming tools required.
Deadlocking, motor driven bolt withstands over 225 lbs. of end pressure.
Audible signal from the lock every time the bolt extends to the locked position.
Low battery indicator signals when batteries need to be replaced.
Snap-in touch key reader assures fast and accurate audit data transfer.
Four hundred event time- and date-stamped audit trail (requires keypad extension and audit trail PC software).
Duress alarm connection (requires optional duress module).
Uses S&G's Magic Module® footprint to match the mounting dimensions of most mechanical and electronic safe locks.
Options
Keypad extension (to allow audit trail download)
Audit trail software to view and manage audit information on your PC
Duress module for alarm connection
Spy-Proof Keypad Cover (to prevent bystanders from seeing the code you enter)
Time Commander II (a full-function time lock with repeating seven day schedule)